St Francis' Roman Catholic Church, Tarnagulla
Written by Donald W. Clark.
Taken from "Tarnagulla - A History" which he compiled in 1985.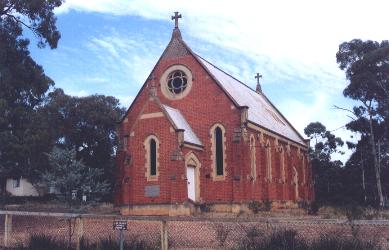 St Francis' Roman Catholic Church, March 2000.
The services of the Roman Catholic Church at Sandy Creek were held in the anteroom of Daniel Hogan's Sandy Creek Hotel, on the old lead at the north end of the town.

Rev. Fr. Fennelly conducted the service at Tarnagulla at 11am on Sunday, May 10th, 1863.

On Thursday, August l1th, 1864, tenders were called for the erection of a Roman Catholic Church at Tarnagulla, to be of wood and iron. Plans and specifications could be seen at the Golden Age Hotel to August 24th per R. Prendergast.

The formal opening of this church was conducted on l1th, October, 1965, by the Bishop of Melbourne assisted by Dean Hayes, who preached the sermon. A Confirmation service was also held.

From about 1901 all types of functions were held by the Catholic Church people to raise sufficient money to build a new church. In July, 1911 the old church was removed to Dunolly where it became St Mary's School, which was officially opened on October 16th, 1911.

The foundation stone of the new brick church was laid on Sunday, September l0th, 1911 by the Most Rev. J. Higgins, D.D. per his Deputy, The Very Rev. J. F Marshall, VE., at the conclusion of which mass was celebrated in the local State School, 1023.

There was a very large congregation with a collection of 100 pounds. Further services were held in the school during the building of the new church. The new church was blessed and opened on Sunday, 18th February, 1912, by the Most Rev. Dr. Higgins, Bishop of Ballarat. Mass was celebrated by the Rector, Fr. D. Howell. A collection of 266 ponds was taken up. The debt till then was 525 pounds, leaving only 259 pounds to clear the whole cost of the building which was 1721 pounds. The architects for the building were Messrs Keogh and Auctin of Bendigo and the building contractor was Mr. F. Wilson.

The first wedding in the new Church was that of Miss Kitty Fitzgerald to Edward Tregellis of Llanelly (Courier 27.4.1912). This Church has been badly affected by the decline in population and has been closed for some years now.

St Mary's School at Dunolly closed in 1923 and the old wooden building was removed to Murphy's Creek, on the Moliagul Road, for the use as the Murphy's Creek Hall in 1931 and remained in use until 1975.