Wesleyan Methodist Church, Tarnagulla.
Written by Donald W. Clark.
Taken from "Tarnagulla - A History" which he compiled in 1985.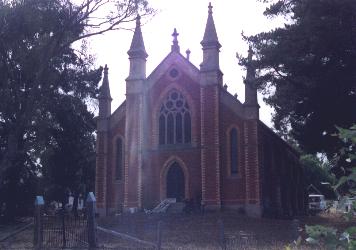 Wesleyan Methodist Church, Tarnagulla, March 2000.
On 12th September, 1858, Jonathan Falder, a local preacher, who had recently arrived at Sandy Creek, from California Hill, Sandhurst, preached from a tree stump to an attentive audience, near Poverty Reef. His text was from 1 Timothy, Chapter 1, Verse 15. In the evening he conducted a service in a private house. A class was formed and the first meeting was held on the 16th September, 1858. A small building in the main street was fitted up and opened for Divine Service by Mr Falder on October 24th. 1858.

Rev. Joseph Dare, Rev. C. Dubourg and others came from Sandhurst as Sandy Creek became one of the preaching appointments on the Sandhurst circuit. Mr. T. Pybus, who lived in the neighborhood, rendered wonderful assistance.
A new Church was opened on March 13th, 1859, with sermons from Mr Falder in the morning and Mr Pybus in the evening.

The first building used as a church was of slab sides and calico and had a bark roof. It had a very large fire place - cool in summer but capable of providing a roasting fire in winter. The second building was roomier and more comfortable but still of very primitive design and materials.

The circuit, which included Tarnagulla, New Inglewood, Old Inglewood, Korong, Dunolly, Kingower and Newbridge, was formed in 1860 with Rev. Robert S. Bunn as the first minister, followed by the Rev. John Mewton.

The circuit was increased with the addition of further places and extended from Mt Korong in the north to Burnt Creek in the south, Bealiba in the west to Woodstock in the east.

On October 19th, 1864, the foundation stone of a new brick church was laid by the Rev. W. Hill of Castlemaine. The Church was opened for public worship on Sunday, 9th April, 1865, by the Rev. Hill, who preached in the morning and evening and the Rev. Mr Sayer of Dunolly, in the afternoon.

The main structure of the church was 55 feet by 32 feet, to accommodate 300 people. It was constructed by John Nottage of Newbridge at a cost of 1408 pounds.

With the serious decline in population in Tarnagulla it was found necessary to close down the church, which is maintained in very good condition by public subscription.

The Methodists and Presbyterian congregations having combined as the Uniting Church in 1975, meeting in the old Presbyterian Church.

Trustees of the Methodist Church since 1870 are listed as follows:
15.10.1870 - Henry Bristol, William Nicholls, Jonathan Falder, Joseph Bartlett, David Hatt
1.6.1881 - William H. Treloar, James Christopher, William Schofield
25.6.1881 - Edward Rosman
1.10.1907 - Joseph Whimpey, Charles E. Falder, Albert C. Nicholls, Frederick P Renshaw
15.5.1908 - Matthew Robinson
1.4.1914 - Joseph Whimpey (Jnr.)
22.9.1916 - Alexander Allison
28.10.1919 - Thomas William Newton
29.6.1931 - Kenneth C. Orde, Daniel Riordan
23.8.1940 - Lewis A. Allen, Thomas H. Evans
22.3.1946 - David C. Atkin
8.7.1946 - William J. Thompson
17.6.1946 - Margaret Myrtle Ison
18.10.1945 - Edward Leo Leitch, Jessie Mary Batten
17.6.1953 - Robert David Peck
2.1.1957 - Alfred M. Batten, Arthur Tasman Dyer, Edward John Silke
27.11.1968 - Colin James Silke, Harry Leonard Evans, Billi Ebenezer Allen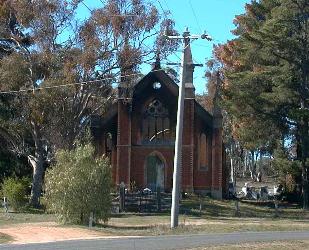 Wesleyan Methodist Church, Tarnagulla, September 2000 after fire destroyed the building.
Photo kindly supplied by Dennis Carnell.